Bahiazul goes green!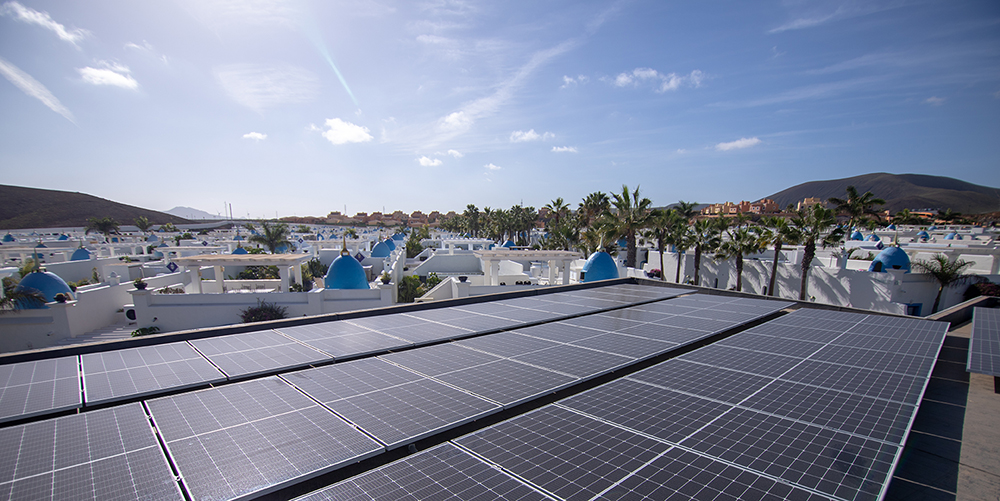 The fundamental values of Bahiazul Resort lie in the development of sustainable tourism in the Canary Islands. For that, we introduce solutions that are environmentally friendly.
The ultimate goal is to minimize our resort's impact on Fuerteventura by reducing the unnecessary use of energy, supporting the use of green energy (thus reducing greenhouse gases), serving food from local suppliers, and encouraging our guests to also be responsible and contribute to the care of our planet.
What are we doing to be more Eco?
Installing solar panels.
In October, we installed solar panels on the roof of our restaurant which produces 50,000 watts. Thanks to them, the restaurant is producing its own energy and is almost 100% autonomous. In addition, all the electricity consumed by Bahiazul has a certificate of renewable origin.
Charging stations for electric vehicles. 
In the newest villas, you can already charge the electric cars on your villa parking. Also, we are creating new electric car charging stations in the main parking of Bahiazul.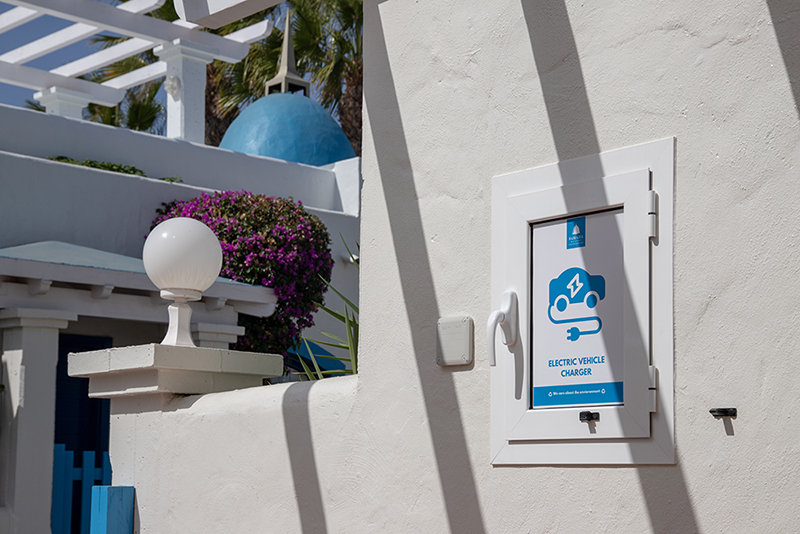 Electric Vehicles in the Resort.
Our staff is using electric cars to give you a ride to your villa and also our maintenance crew is using them to move around the resort.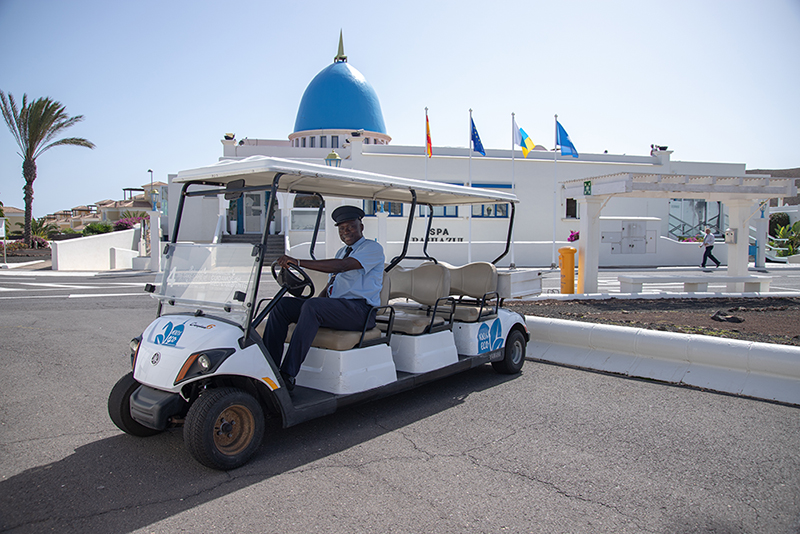 LED lighting 
In our resort we are committed to use LED bulbs. It helps to conserve energy and reduce waste.  Because LED bulbs last longer, we can buy fewer bulbs and not change them as much. LEDs are 300 percent more energy-efficient than fluorescent lighting.
On-site waste separation, including glass, plastic, paper, batteries, and more
We've spent many years reducing waste and recycling. Our waste hierarchy is:
Refuse: avoid waste being generated, Reduce: use raw materials and reduce the amount of waste generated, Reuse and Recycle!
Using eco-friendly cleaning and laundry products 
We use cleaning products that are eco-friendly and made without harsh non-biodegradable chemicals.
Organic, local, and fair-trade products served at restaurants
Bahiazul restaurant proudly serves a variety of foods and drinks, with local ingredients from km0 & vegan/vegetarian/gluten-free options. 
We encourage our clients to be a responsible guest!
We encourage our clients to use less water,  reuse their hotel towels and bed linen, and Limit energy use. Remember to respect the local environment and dispose of the sanitary waste properly. Recycle and reduce.
Let's all contribute to prolonging the life in our planet so we can all enjoy nature and the environment.
Have a great responsible vacation!
Categories: blog
« What to do in Fuerteventura during the winter time?
Resuming 2022 »