5 beaches in the north of Fuerteventura that you will fall in love with!
Are you staying in Bahiazul and you can't decide which would be the most excellent beach for you? We have prepared a selection of the nicest ones fairly close to Bahiazul Resort Fuerteventura. Let's take a look at them!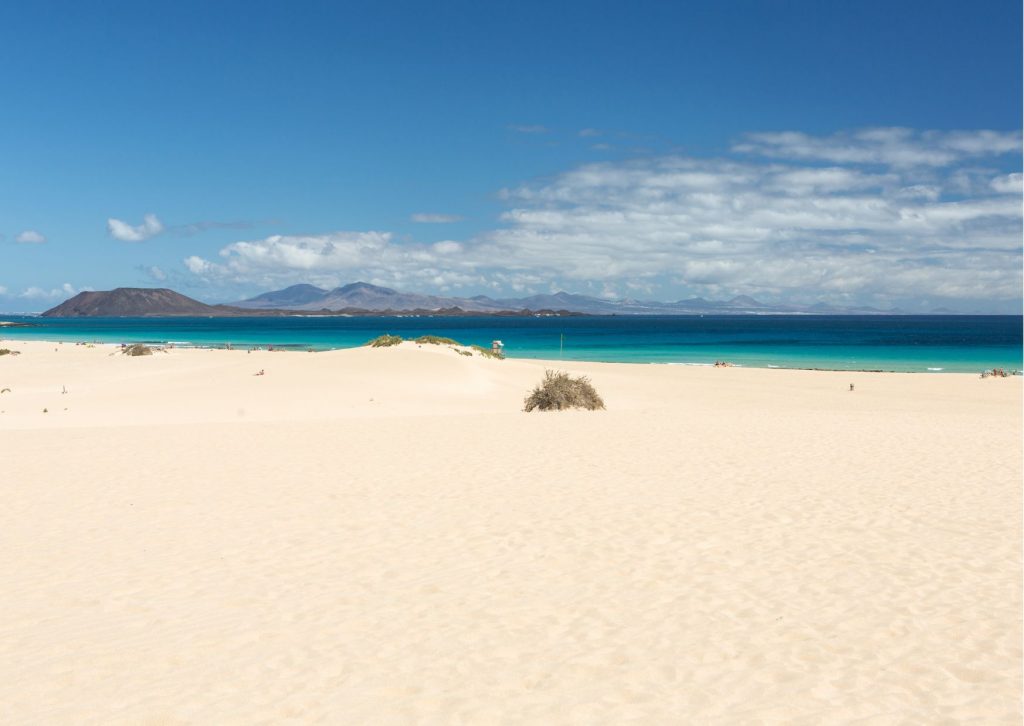 Corralejo:
1. Grandes Playas de Corralejo
Miles of white-sanded beaches with clear turquoise waters- Grandes Playas de Corralejo is a place that you can't miss. A big part of them is placed in the Parque Natural de las Dunas de Corralejo (Dunes Natural Park), which is a spectacular natural area.
Which beach to choose?
Burro beach, Playa del Moro, or Bajo Negro beach, are more family-friendly and have services such as lifeguards. Flag beach, the closest to Corralejo, is mainly used by those who practice water sports such as kiteboarding and windsurfing.
2. Playa Vista Lobos
Also called Popcorn Beach is one of the most curious beaches in the north of Fuerteventura.
Instead of sand, it has white algae fossils that look like real popcorn.
It is just 5 min drive from Bahiazul, or 30 min walk. We suggest going there at high tide, so it will have easier access to the water.
It's placed in the little lagoon, so there are no currents and it's safe to stay there with the kids.
Please remember that the white algae are under protection and DON'T take them home with you. Nature will appreciate it!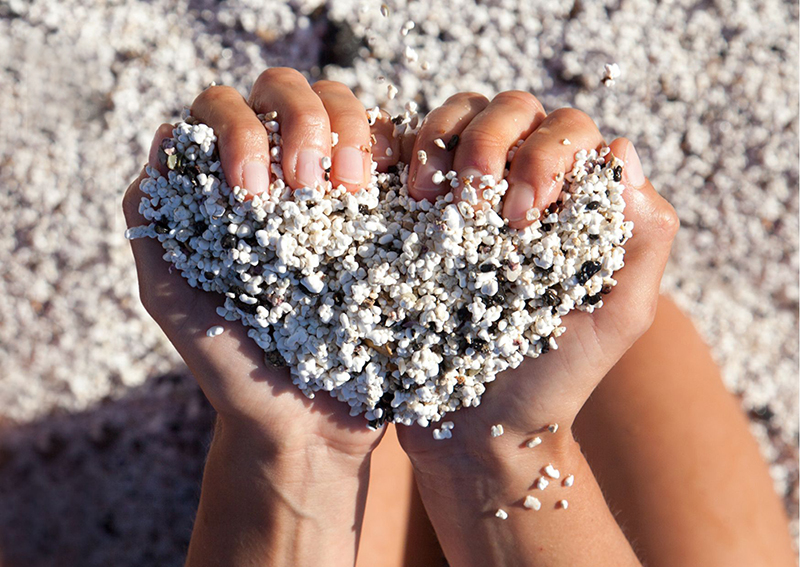 3. City Beach Waikiki
Waikiki City beach is not far from the seafront of Corralejo. This bay is well protected from the wind, waves, and currents, so it's safe for kids and beginner swimmers. Around Waikiki beach you will find plenty of restaurants, so you can enjoy the beautiful Lobos view while having lunch or a refreshing cocktail.
If you are willing to discover more of Fuerteventura, we suggest you have a ride to Cotillo. There you will find a totally different landscape, with cliffs, natural pools, and lagoons:
4. Cotillo Piedra Playa
Piedra Playa, placed in Cotillo, is a place for water-sport lovers! Here you can try your skills in the surf, kite-surf, and windsurf.
You can also enjoy the most beautiful sunset on the island, and watch breathtaking views!
If you come with kids try to avoid swimming on the days of bigger waves, as it may provoke some currents. Lifeguards are only on duty during the summer months.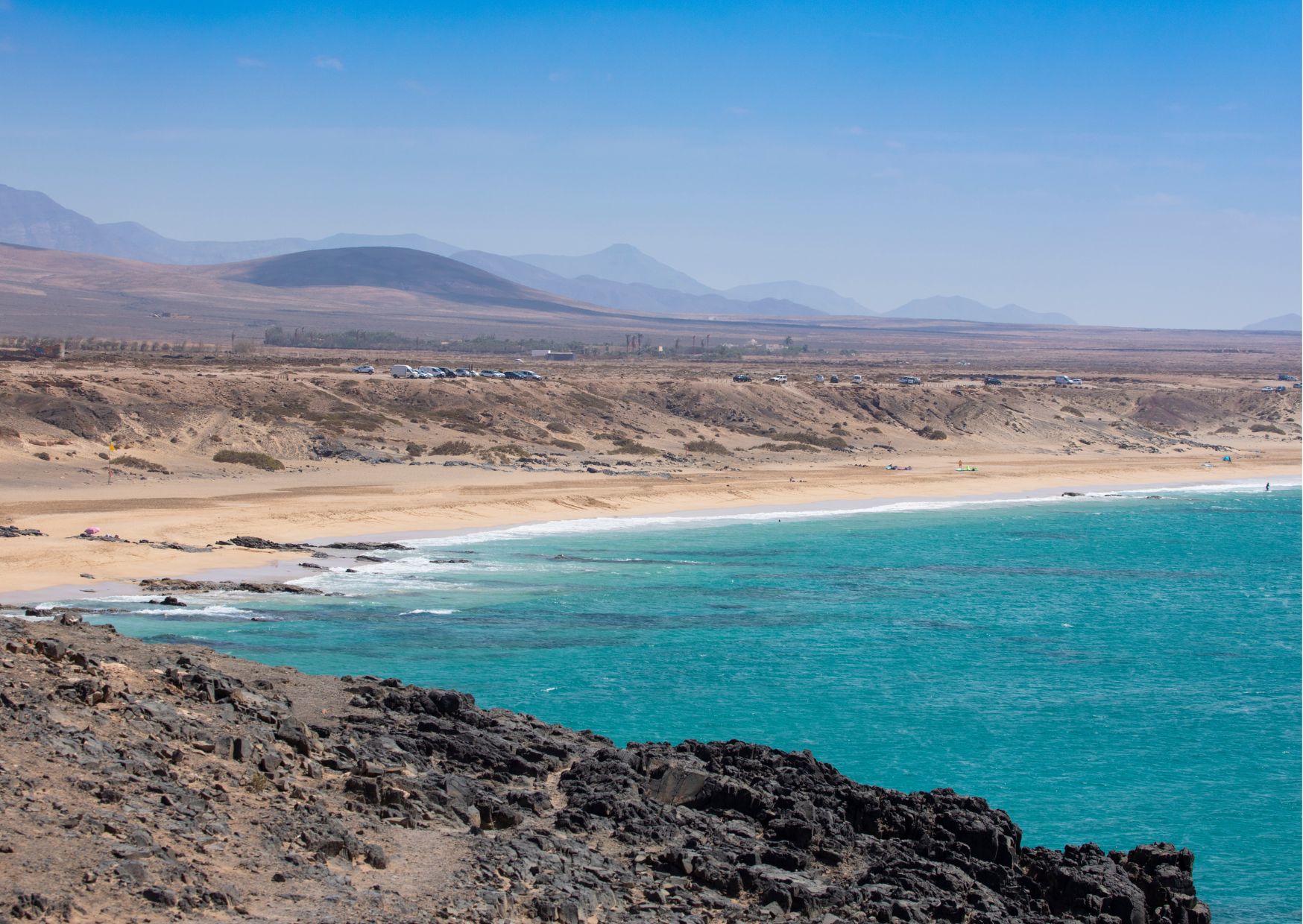 5. Cotillo Lagos
Lagos are natural lakes, placed around Cotillo.
If you drive the coastline from Cotillo Town to the lighthouse you will see plenty of them!
They are perfect for swimming with your kids and enjoying the afternoon with your family.
There are no waves, and the water is crystal clear. You can also snorkel and see some underwater life.
It's well accessible and easy to park.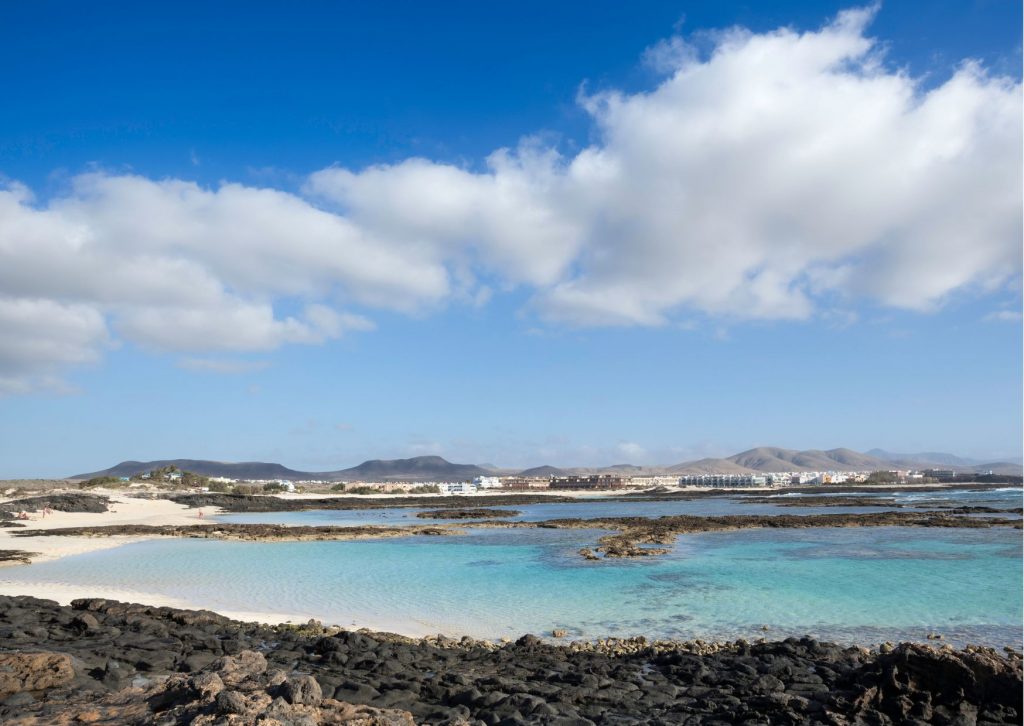 How do I get to my favorite beach?
We suggest moving around by a rented car (Especially for the further beaches like Cotillo). To the Corralejo beaches (like Dunes, Vista Lobos, and Waikiki beach), you can take a Taxi. It would cost you about 3.5€ one way, and it is about a 5 min away drive from Bahiazul.
If you are willing to go to Cotillo, we recommend getting there by a rented car.
Remember that any information you need you can always ask Bahiazul Resort staff. We are happy to help you!
Categories: blog, experiences, location
« Water sports in Fuerteventura
What to do in Fuerteventura during the winter time? »